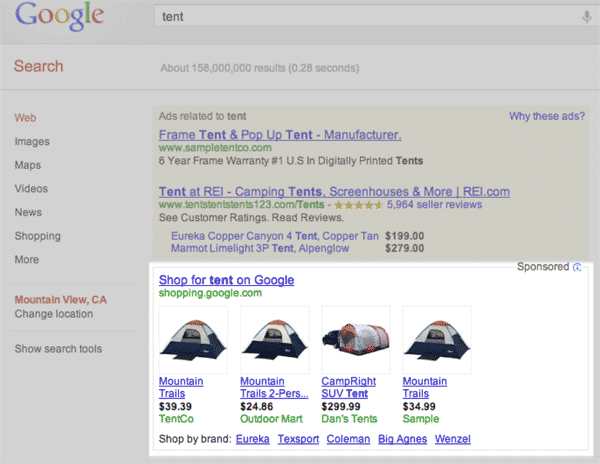 So as officially released on Google's own Blog last week - Google Shopping, formerly known as a Google Product Search is migrating into a fully paid model on the 13th of Feb 2013. But what Product Listing Ads have to do with it? Well, a lot!
So moving forward, if you would like to be listed on Google Shopping (and I think you would like to be, looking at the avg. conversion rates there) you need Google Merchant Center account, as usual, and a Product Listing Ads campaign as only PLA will allow you to promote your products there plus across all other Google's properties.
PLA's are really easy to set and you can get them going in a matter of minutes. You can, of course, customise it a bit deeper - set targets, demographics, pretty much all that you can do with AdWords AdTexts you can also do with Product Listing Ads except setting positive keywords. The reason why is because you have already done so by writing your product title and description. Google will evaluate all queries against that info plus of course your CPC Bids and this way will decide which Ad/Product is the most relevant to be displayed to the user.
PLA seems to be much better format for promoting products than standard AdText and I will try to argue that below so please keep reading, but don't take me wrong, by saying better than AdText I only refer to the long tail keywords ads highly focusing on driving you traffic and conversion to product pages, for all other marketing aspects AdWords AdTexts, are where they where.
So first of all your products will be promoted on Google Shopping (Google Product Search) so you will get access to the buying-driven audience trying to find their desired product at the best available price online. But second of all, you will get access to an Order of Magnitude bigger audience - all product related searches performed across Google Search itself.
I know, some of you will say that you could already do so with AdTexts (promote products) which is true in some way but not exactly and below you can find out why:
The ad display format is unique, something that couldn't be done with AdText - your PLAs will display actual product image and of course price, title and your shop name. I have listed some examples below:



| | |
| --- | --- |
| Top right corner | |
| Top right corner | |
| Top | |

Your Product Listing Ads are in a way self-managed content-wise, assuming of course that you keep managing your Google Merchant Center feed regularly (we can help with that btw.), so if your product's price is changing all will be reflected automatically inside the PLA, same applies to stock status, title and so forth.
And to highlight it, even more, we can already see really nice conversion rates across Product Listing Ads which should be the case since user see much more info before clicking therefore once clicked through she/he should be more likely to convert as was more informed before.
So as you can see above all those changes bring some exciting new ways of promoting your products online and benefiting user with much nicer ad format for products.
There is one thing to keep in mind once Google Shopping will switch to powered by Product Listing Ads and for PLA too - optimisation matters more than ever.
If you care about ROI, and who doesn't, it is more important than ever to make sure you only promote products which have positive ROI therefore proper analytics and proper optimisation strategies are 2 main factors to run successful Google Shopping and Product Listing Ads campaign. That is something that Feed Optimise does for all paid channels including Google Shopping and PLA already therefore if you need some help or have any questions please do not hesitate to contact us.
P.S.
In case you would wonder what differs Product Listing Ads from Product Ad Extensions then you can find it here.